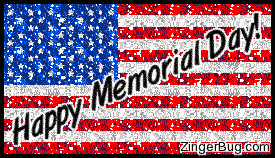 What fun is a long, holiday weekend without a fun old-school, nostalgic MySpace glitter graphic! (Corny, I know. I like glitter, what can I say?) But either way -- Happy Memorial Day Weekend! I hope everyone has a great BBQ to go to and eats as much food as their tummies can handle! I know that I will! We are just having a small family BBQ, but we're still going to eat whatever we can fit in our stomaches nonetheless! Memorial Day is the "official" kick off to summer and also an excuse to stuff ourselves! (Well, other than Thanksgiving...)
The weather here has been absolutely horrible. We have had three or four 85 degree or higher days in a row. Keep in mind, my car still does not have air conditioning. So I've been rolling down all four windows in addition to my sunroof whenever I go out in the car. Absolutely horrible! The humidity in NJ is also the worst. Most of the time, our humidity is actually higher than the temperature itself. That makes for a horribly sticky day and evening. It's just a very uncomfortable and cranky day when that happens. I have a feeling this summer is going to be worse than other summers, if our horrible snowy winter was ANY indication! I definitely think this is the weekend to get our pool up and opened!
Alayna is graduating Pre-School on Thursday, so we have been preparing for that. She is very excited that she will be on stage singing and saying her assigned lines. She is such a drama queen and wants, so badly, to be an actress. The stage is definitely where my little actress should be, that's for sure! Maybe that will be her future occupation, who knows! Either way, we are very excited and proud of her! I can't believe how time flies. I remember her as just a little baby, and now she is almost 6 years old and graduating pre school.
I have a lot of blog work to do today, so I better get going on that! I hope everyone has a GREAT Memorial Day weekend with lots of food, family and fun. :)