This is just a crapload of random all in one post. :) I didn't want to make more than one post today -- completely lazy! :) So let's start with...my diet! I'm doing so well. I'm going on week three right now and I've lost a little over 15lbs. I got to the place where I don't even crave any junk food that's bad for me and that's just perfectly fine with me! I'm trying my best to get to my goal weight and I feel that with this diet it will happen. I have the willpower and motivation this time around. Go me! I feel positive, optimistic and just happy with my results so far. The bad part is, I haven't had time (or money) to sign up for a gym, so exercising isn't in my plan right now. I've been searching around for maybe a small piece of exercise equipment to put in the basement near my art studio; that's been a major fail. Besides, I remember what happened when I bought an elliptical a few years ago. I thought it was "small" because it said so on the site I bought it from. Well, this thing ended up being a freaking monster and it took me forever to sell the damn thing. There are times where I regret selling it, but this thing couldn't budge from our living room with just my mom and I carrying it.
Maybe I'll spring for a gym membership when I get a full time job, but I don't know when that's going to be. I've been sending resumes out for weeks now, and haven't had a positive response at all. So, I keep trying. Thankfully, my shop sales are starting to pick up, at least I have *some* money there. I hope they pick up a little more.
Shop: As I said, sales are doing pretty good. I made a few sales this month actually breaking my goals for this month! I upped my goals now to 2 more sales! I have 4 for this month, so far! Come on sales, let's go! lol I added this beautiful piece to my shop today: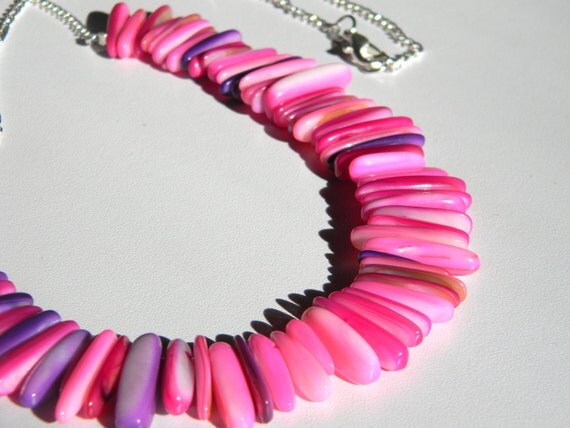 This is such a beautiful necklace with shell sticks that are dyed pink amethyst and linked on sterling silver chain. It's absolutely gorgeous and something that I'm absolutely in love with. It was so hard to list and part with this necklace, but it took me so much time to get the concept and the necklace itself perfect and it's something that I take a lot of pride in. :)
♥ We are now offering free domestic shipping on orders $50 or more. The code for this is Free50. :)
♥ You can choose the free shipping or 10% off your entire purchase with code THANKYOU.
We hope you enjoy our shop... keep visiting and maybe you'll see something you love.
♥