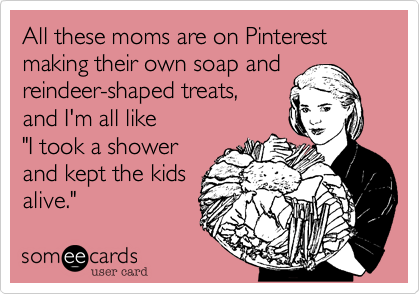 I'm very stressed out today. Why, you might ask? Because I can be stressed out, that's why.
Actually, I think everyone is stressed out around the Holiday season -- which is funny because isn't it the season to sit back and relax? Unfortunately, when you're a single mom working full-time with a 6 year old's birthday coming up right before Christmas and two family get together's that you're hosting...things get even more stressful.
My youngest was due on Christmas Day but because my OB/GYN was due on the exact same day that I was, she chose to induce me on December 21. 2007. Since my daughter was born so close to Christmas I need to throw Olivia a party for her friends (usually a few weeks before her birthday), a birthday party for mine & her father's side of the family and I also host Christmas at my house as well. That's a hell of a lot of money and way too many parties in such a close span of time, but I wouldn't change it for the world no matter how stressful it is.
As I sit here, I'm thinking about everything I need to do for this weekend, which is her friend's party at Chuck-E-Cheese. Since I live paycheck to paycheck until my second job starts up in January, everything is done very last minute. So yes, I have to run out tonight and get a cake, order balloons, grab some decorations and get goody bag items as well. All 48 hours before the party, which is absolutely lovely. Not only am I thinking about what I have to do for this weekend but I am also planning the menu for her family party (On Dec 21st) and trying to figure out what activities I am going to have for the 6 kids that will be there.
I also have to plan when we are going to get Santa pictures done for the girls, when we are going to get Christmas card pictures done and that damn elf...I have to keep thinking up creative ideas of where to put the damn thing. That's pretty stressful in itself; especially when I'm going to bed at midnight! I'm usually dragging myself back out of bed, unwillingly, to go put the elves out.
Want to hear the best part? The icing on the freaking cake? My daughter, who's Birthday party is on Saturday, got sent home from school today with a 102 fever. Of course, never fails. Why would things actually go smoothly? Ironically, she's taking after me. As a child I always got sick, without fail, right before my birthday and right before a major holiday that we were hosting. That was the two times out of the year that I actually would get sick. I had pretty shitty timing and it seems like my daughter is following right in my footsteps. Of all the traits she could have gotten from me, THAT'S the one she chooses to get! I'm just kidding -- mostly -- but when it rains, it pours in my family. If it wasn't for bad luck, we wouldn't have any at all.