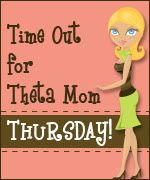 Before I start my entry, I want to participate in Time Out For Theta Mom Thursday. :) I think it is a great idea for moms to take an hour or more for themselves once a month. We go crazy enough with our hectic schedules, kids schedules, etc... We should take a breather and do something for ourselves.
Mine was a few weeks ago. I went out with my friends to New York City. We saw In The Heights, went out to eat lunch, walked around the city, we tried for a second show's lottery and just had a great time. I was out for a total of 7 hours and it was a much needed break. I loved it! Now on to your regularly scheduled blog!
Honestly, [snow] I'm over it. LOL I can't take it anymore. It has been snowing since about 5 or 6 this morning. It started out as light, small flakes, but now they're heavy large flakes. It's insane out there and I am so sick of the snow!
My mom decided, this morning, that she wanted to make some chicken wings, mac and cheese, lasagna, etc...So I was sent out to the grocery store at about 9 am in this horrid weather to get some groceries. SERIOUSLY!? It should be child abuse to send someone out in this weather! lol Needless to say, I was petrified driving all the way there and driving all the way back. The road conditions are terrible. They're slick, icy from all the rain for the past two days, and just unplowed with soft slick snow. Of course, our town really hates to plow roads, apparently. Only the one main highway and two main roads are plowed. The rest are just salted - IF THAT! At least I got there and back safely, got what I needed, and we're great until the storm is over. Unfortunately, they said it's going to be a double header storm. We're going to be getting hit with another TOMORROW. I can't take it!! lol At least there is still a lot of cleaning I have to get done. That will be my project until the snow is over. I hope it's done by Sunday, I do have plans.
Amongst all of this, I have had to cancel a few job interviews. Tomorrow I have one that I really want to go to, however it's in Edison, NJ and the snow is probably not going to stop by 10 am. I pray they will let me reschedule because of the weather. Though, I'm not calling until later. I don't want to cancel if the roads are going to be decent. I really need a job and hope that I do end up getting one of the few jobs I am interviewing for. I would love an actual corporate job, which these interviews are for. They're for positions that actually have a chance for growth and advancement. I want something real and not something retail. :) Wish me luck!
My diet is going well. I'm on Day 3, I'm down 3.1lbs and am very happy. I know I can lose more weight if I drank more water. Losing water weight & bloat is VERY important when you're losing weight. I just haven't had any desire for water. The closest I get is Crystal Light. (And that's still calories.) I have to just get into the groove of drinking water either way. I also want to exercise. I'm still paying for a gym subscription, but I can't get out to the gym until the weather gets better. I do have the Turbo Jam collection and hopefully maybe I can use that while I'm waiting to go to the gym. :) Now I'm kicking myself for selling my elliptical! Follow my weight loss journal.
DON'T FORGET ABOUT OUR CONAIR CERAMIC HAIR STRAIGHTENER GIVEAWAY!!
We also now have a FACEBOOK for our blog. If you fan our facebook, we would really appreciate it! Saturday we are going to post a giveaway ONLY for our Facebook fans. So go check it out and fan us, it only takes a second!